The key to our work is to build widespread wellbeing, in the social, economic and cultural field. To do this we have adopted a system of values that accompanies us in our day-to-day actions.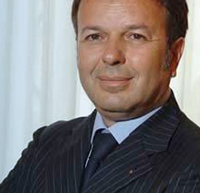 Following are the values to which we refer to guide our behavior and our way of doing business
G. ANDREA FARINA
Chairman & CEO
Itway Group

INTEGRITY
The concept of "Ethics in Business" is essential and the backbone of our way of doing business. Our behavior is based on principles of honesty, equity and justice. Our business Partners have to have the same requisites.

RESPECT
We are committed to focus on the role, the rights and the opinions of our business partners. We are committed to treating others with dignity, trust and credibility. We aim to create a long-term relationship.

TEAM
Itway is a team in a race. We promote and support different cultures and professional profiles but that are united in one team. Each one of us is aware that his role is strategic to win. We work together, as a team, to achieve our common objectives.

INNOVATION
Change doesn't scare us; we are not static in covered positions. Creativity in supplying value added to our Clients, Suppliers, Employees and Shareholders is part of our way of doing business. We are able to anticipate change, to seize new challenges and to create and execute new business opportunities.

THE URGE TO ACHIEVE A RESULT
We accept the responsibility of the result and we are committed to reaching the set objectives and to maintain a superior performance standard. We are responsible for our performance in every act that we undertake.

Itway: DO IT YOUR WAY
Way:[n]-1. (manner) a method, style, interpretation or manner of doing something; 2 (route) direction, a course of travel taken to reach a place or an objective; 3 (course) a series of actions or a sequence of events.