Investors - Board & Management - GIOVANNI ANDREA FARINA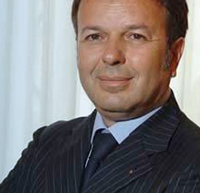 Giovanni Andrea Farina
President, CEO & GM - Itway Group
---
G. Andrea Farina, 47 years old, born in Ravenna is founder, Chairman, Chief Executive Officer of Itway Group S.p.A. (listed at the Italian Stock Exchange in Milan).

Moreover, he is President of the Board of Directors of Itway France SARL, Itway Iberica SL, Itway Hellas SL, Itway Turkiye Ltd, President of Farway S.r.l. Group, President of Cu.RA - Consorzio Utilities Ravenna.

He holds a degree in Computer Science from the Girolamo & M. Montani Industrial Technical Institute in Fermo and a degree in Business Administration with MBA from the Anderson School - Institute of Economics and Finance of the University of California Los Angeles (UCLA).